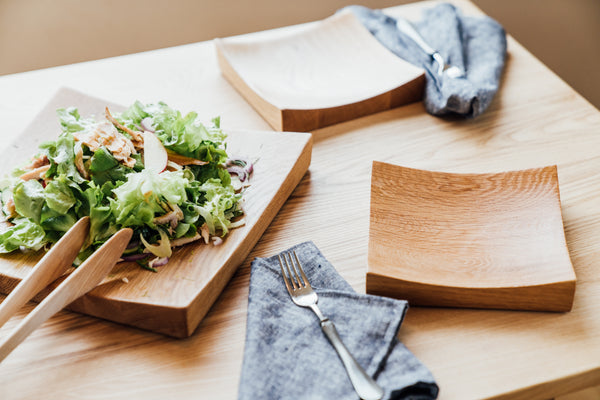 Recipe: Smoked Trout Salad
This recipe is a family favorite. It is inspired by a trip we took to Costa Rica last year, where we spent December celebrating Dustin's 40th birthday, surfing, and eating a lot of good food (I highly recommend Santa Teresa for great surf and great food!).
There's a little spot just off the beach called Couleur Cafe, where we found ourselves eating lunch most days.  They had a salad on the menu similar to this one, but with some ingredients that were local to Costa Rica, and not easily found back in Vermont.  This is our interpretation.  It's crunchy, sweet, salty, a bit chewy from the smoked trout, and has become one of "on-repeat" lunch options.  It's good for a solo meal, or for feeding a crowd.
What you'll need (scale these based on who you're feeding):
Leafy greens, like a butter lettuce
Smoked Trout (you can use other Smoked Fish or Seitan, too)
Cucumber
Fennel
Apple
Shallot
Creamy Dijon Dressing:
Juice of 1/2 Lemon
2 tablespoons Red Wine Vinegar
2 teaspoons Dijon mustard
1 teaspoon Honey
1/3 - 1/2 cup Olive Oil
Make the Dijon Dressing:
In a small mason jar or bowl, combine the lemon juice, vinegar, mustard honey and 1/3 cup olive oil.  
Season with salt and pepper.
Cap the jar and shake (or simply whisk) until the dressing comes together.
Add more olive oil to taste.  You're aiming for a dressing that is light and bright!
Assemble the salad:
This recipe is great for leftovers - so feel free to prep as much as you like. On a bed of washed and dried lettuce, thinly slice the fennel, cucumber, and apple. I like to use a mandoline for this part, but a knife and some patience will get the job done.

Thinly slice the shallot, and rinse under cold water before adding to the salad. I often add the shallot and dressing to the bottom of the bowl and let the dressing mellow the shallot out a bit before tossing all the remaining ingredients together. Season with flaky sea salt and pepper, and enjoy!