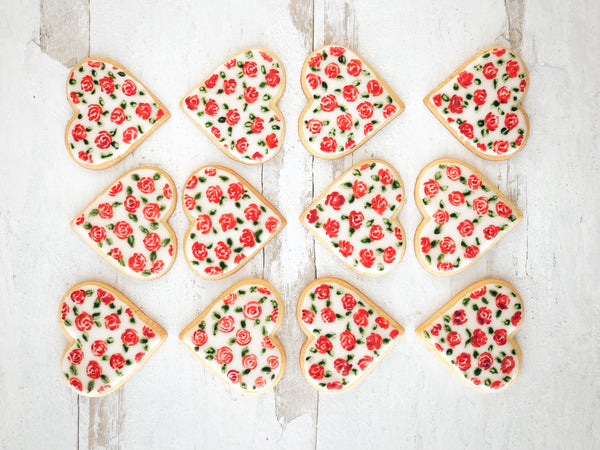 Recipe: Sugar Cookies for Valentine's Day
We're surrounded by talented and passionate makers in Vermont.  Our friend, Betsy Thompson, of Farm and Apron, whipped up a batch of beautiful cookies with our French Taper Rolling Pin in celebration of Valentine's Day.  We're smitten with their hand-painted floral pattern and sweet heart shapes - but most of all, we're in love with their buttery, sweet flavor.  So here's a little treat from Betsy to you - share them with a bestie, your family or your favorite mail carrier - it's the season of love.
These heart-shaped cookies are topped with a simple vanilla icing and come together with minimal effort. Once the icing hardens, you can use vegetable food coloring to paint decorations on the cookies. Paint cookies with the names of loved ones, flowers, hearts or more. Get creative! Get messy! The sky is the limit. 
Cookie Dough Ingredients:
3 cups all-purpose flour
1 teaspoon baking powder
¾ teaspoon salt
1 cup sugar
1 cup cold butter, cut into chunks
1 large egg
1 tablespoon vanilla extract
Vanilla Icing Ingredients:
4 cup powdered sugar
¼ cup whole milk
2 tsp vanilla
2 tablespoons water
Optional:
Assorted sprinkles or other edible decorations
Liquid vegetable and herb food coloring 
Directions:
1. Preheat the oven to 350°F.
2. Combine the flour, baking powder, and salt in small bowl; set aside.
3. Cream the butter and sugar with a hand-held mixer or in a stand mixer about 4-5 minutes or until fluffy.
4. Add the egg and vanilla extract and beat until incorporated.
5. Gradually add flour mixture, beating at low speed until just combined.
6. Turn the dough out onto a lightly floured surface and gently knead to bring the dough together and form a smooth texture. Roll out the dough with your French taper rolling pin on a lightly floured surface to 1/8-inch thickness.
7. Cut into shapes with cookie cutters of choice. Place onto prepared cookie sheets. Bake 8-10 minutes or until just beginning to brown around edges. Cool on cookie sheet 2 minutes; remove to a cooling rack. Cool completely.
8. To make the icing, add the powdered sugar, whole milk and vanilla into a medium bowl. Stir well to combine. If the icing is too thick, add in 1 tbsp of water at a time, combining well before adding the second or any additional water.  Decorate cookies with icing and sprinkles.  Let the cookies set on a flat surface until firm before storing, overnight or for 24 hours. 
Painting the cookies is an easy and fun way to decorate them! On a small plate, drop a few dots of the food coloring desired and use it to gently paint on the iced cookie. You can paint stripes, hearts, or flowers as we've shown here. If you want to switch colors, make sure to clean your brush in a cup of water and dry well. Once you've finished painting your cookies, leave them to dry fully to keep the food dyes from smudging!
Serve & enjoy with your loved ones. ♥️
 Check out more of Betsy's amazing recipes by visiting her on Instagram @farmandapron!